Club Battle Swim Meet Arc
Talk

0
601pages on
this wiki
The Club Battle Swim Meet Arc is the second story arc of the Medaka Box series.
Arc Outline
Edit
To decide the distribution of club funds, the Student Council holds a swim meet, forcing the academy's clubs to compete for the money. The avaricious members of the Swimming Club (Umumichi Yakushima, Sotsu Tanegashima, and Mogana Kikaijima) take the competition to a whole other level though; going so far as to risk their own lives for the sake of profit. However, by the end of the competition they are reformed by Medaka Kurokami, who convinces them that their lives and the lives of their teammates are more important than money. Medaka also convinces Kikaijima to join the Student Council, as her experience as a first class bookkeeper more than qualifies her to be the Treasurer.
Club Funds and the Pool
Edit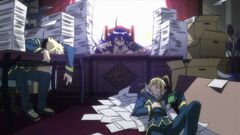 Exhausted with the constant demands of the Student Council, Kouki Akune jokingly asks Zenkichi Hitoyoshi if he can quit the Student Council. Exhausted himself, Zenkichi is not amused by Akune's attempts at humor. When Medaka insists that even she is starting to feel worn down by all the paperwork, Zenkichi comments that she doesn't look it. Medaka complains that there are too many requests by clubs for funds, and that there is no fair way they can give money: if it were split up among all the clubs, there would be too little to do anything. Zenkichi notes that Vice-President aside, not having a Treasurer is really hurting them now. Akune mentions that he can understand; as a former member of the Judo Club, he knows that every extra dollar helps. Zenkichi makes mention of how many clubs the school actually has. When Medaka tries to offer her own money, Zenkichi shoots her down. He remembers that Medaka lives alone, having earned a great deal of money by solving the juggling theorem when she was in middle school. While trying to decide how to give finds, he suggests that they give the most money to the most deserving club. He offers that they turn the inter-club relay race into a competition to decide which clubs should get funding. Medaka decides that it is a good idea, but that it would be unfairly in the Track Team's favor. Zenkichi then suggests that they hold the competition in the school's new pool.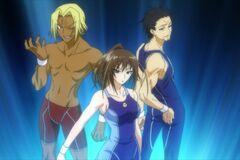 At lunch, Zenkichi discusses with Hansode Shiranui how it has been decided to hold a club battle swim meet on Sunday in the new pool. When Shiranui points out that such an event seems to be in the Swimming Club's favor, he replies the events will not be water-based, despite taking place in a pool. Shiranui starts acting smug, and tells him that any event in the water can't be called fair, because there are three members of the Swimming Club who are very pushy when it comes to money. When he presses her to tell him what she means, Shiranui coolly tells him to ask her in a more polite manner. When he asks her while bowing, other members of their class comment that the pair have a sick way of getting along. Shiranui then tells him about how the members in particular will do anything for money; in fact, will only do something if it is for money. She then warns Zenkichi to be careful, as even if Medaka is invincible, it doesn't mean she can't lose. In an undisclosed location, the Swimming Club discusses the upcoming club battle swim meet. Tangeshima calls it a retarded event, though Yakushima tells him not to be that way. Yakushima calls it an event made just for them, and encourages the others to enter. Kikaijima insists that they will get money if they win, so there is nothing to complain about. As a group, they decide that when they win, they will be one step closer to reaching their dream of filling a pool with money.
The Swim Meet Begins
Edit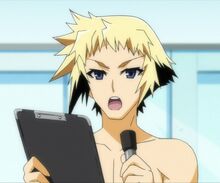 Come Sunday, Zenkichi is amazed to see how many people have come to the swim meet. Akune tells Zenkichi that fifteen clubs have come, a surprising amount. As they talk, Zenkichi takes note of the people he recognizes, and wonders where the Swimming Club is. Medaka greets all of the assembled clubs, giving a somewhat Darwinist pep talk to inspire them to compete hard. Zenkichi goes on to explain the rules of the swim meet. Before he finishes, Medaka interupts him, wanting announce the last part herself. She the reveals that the Student Council will be taking part as well, and that anyone who can score higher than them will receive funding directly from Medaka's own pocket, three times the normal amount, no questions asked. The members of the Swimming Club look pleased, Nekomi Nabeshima thinks to herself that she will get to challenge Medaka, and Zenkichi and Akune are seen kneeling on the ground, thinking that they begged Medaka not to do this. Medaka then declares the meet will begin, with the first event, water basketball. Zenkichi thinks to himself that this was supposed to be a peaceful event, and after what Shiranui said, he is getting a bad feeling. Kikaijima asks the others what they should do after Medaka makes her announcement. Tanegashima alleviates Kikaijima's worries, insisting that in the water, they are better than the beast Medaka, and Yakushima tells the group that anything other than first place is out of the question.
The First Event: Water Basketball
Edit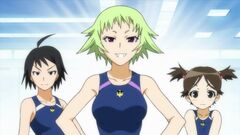 Shiranui is revealed to be hosting the swim meet along with Tanzaku Aso. Aso describes the meet's first event, water basketball, before attempting to introduce herself, only to get cut off by Shiranui. Aso asks Shiranui if she is really friends with the Student Council's Zenkichi, and after receiving the affirmative, asks how the two met. Shiranui tells her that they went to different middle schools, and met for the first time in April, when Zenkichi picked up an eraser she dropped. Aso is unimpressed, and Zenkichi's thoughts upon hearing the story imply it to be, if not a lie, then only half the truth. Waiting for the first event to begin, Nabeshima approaches Zenkichi and Akune and asks if they didn't make a mistake with the rules, handicapping the boys by making them wear flotation devices, as the first event requires that participants dive down beneath the water. When the boys point out that she is taking advantage of the rules by having only girls on her team, she openly admits it. Overhearing Nabeshima talking to Zenkichi and Akune, Medaka approaches her and tells Nabeshima that she hopes the two of them can have a good fight. Nabeshima grudgingly agrees, thinking to herself that the handicap doesn't apply to Medaka. Shiranui and Aso discuss the first event, with Shiranui deciding that the Basketball Club has the advantage. Aso is surprised by Shiranui's logical analysis, and Shiranui tells the older girl that she is here to work, as she is getting paid in food. She goes on to say that there is a certain technique required for water basketball, though not too many people know it, and that this is why she warned the participants that the problem isn't just with getting the ball in the basket. Aso becomes unnerved by the younger girl's dark expression, and begins to ask what she means, before noticing that the event is about to begin. As the participants struggle to score points, Aso asks Shiranui what she thinks of the situation, only to find her laughing.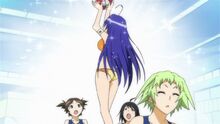 Nabeshima finds herself and her team struggling, and though she cheerfully tells her fellow teammates to stop calling her captain, she worries to herself that the game is much harder than she imagined. She wonders how the Student Council are doing, and is shocked when she sees Zenkichi and Akune getting out of the water. When she demands to know why, Akune tells her they would just be getting in Medaka's way. When Nabeshima asks where Medaka has gone, Zenkichi tells her that if her intention is to be cheap, then Medaka's is pomp and circumstance. Medaka then bursts out from underwater, startling Nabeshima. Medaka scores twenty points almost immediately by gathering all of the balls and throwing them in the basket together. After Medaka scores, Akune and Zenkichi high-five. Aso is amazed to announce that the Student Council just scored twenty points in one shot. Shiranui corrects her, explaining that that is actually the right way to do it. In the water. Medaka thinks to herself that because the throw was a three pointer, she should have gotten sixty points. Aso agrees with Shiranui and says she understands, but tells Shiranui that because she announced it over the microphone, everyone heard it, and all the students have begun to frantically try to mimic Medaka's technique. Aso later declares that the time is up.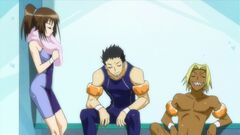 After the first event ends, Akune asks Zenkichi if they should have given extra points for finishing places. Zenkichi is pleased with the scores, seeing that the Student Council is not too far ahead the other clubs, despite Medaka, and claims that he will need to thank Shiranui for explaining the proper technique. He isn't surprised when Medaka appears behind him, mimicking his pose. She tells Zenkichi there is no need to thank Shiranui, as the Swimming Club finished even before the Student Council did. Other onlookers discuss the Swimming Club, one claiming he saw the guys swim to the pool's bottom, even with floaters on their arms. Zenkichi thinks to himself that they were the ones Shiranui was talking about, but he is amazed that they were faster than Medaka. Medaka confronts the club, indentifying the technique they used as compulsed expiry diving: if they had made a single mistake, they could have drowned. She asks them if they value their lives, a question Tanegashima answers on the rest of the club's behalf: they value money more than their lives. Aside, Nabeshima angrily tells herself that she won't lose to Medaka, while her teammates look on.
The Second Event: A Three-Legged Race
Edit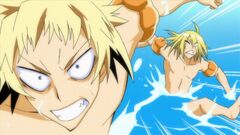 Zenkichi explains Hakoniwa Academy's policy on scholarships and scholarship students, and notes how scholarship students teaming up (like in the case of the Swimming Club) are quite a rarity. Aso announces the second event of the competition to be a three-legged race in the pool. She goes on to announce the scoring, with first place winning fifteen points, second place thirteen points, and so on. Last place gets no points. She then asks Shiranui what she thinks. Shiranui replies it's so stupid it's great. She then gets serious and recognizes that logically, the Track Team should win. Even so, she's going to put her money on the Swimming Club and the Student Council. Waiting for the second event to start, Medaka is approached by Nabeshima, which asks why she isn't participating. Medaka responds that doing so wouldn't make it much of a team competition, and points out that Nabeshima is doing the same. Nabeshima goes on to talk about the Swimming Club, mentioning that they will do anything even for only a penny. She talks about Yakushima in particular, claiming that she admires his raw talent, but that she can never tell what he is thinking. Kikaijima approaches them from behind and tells the pair that she never expected them to understand what the Swimming Club are thinking. She does tell Medeka and Nabeshima what the Swimming Club wants is a pool full of money: their dream is to spend a full day swimming in it. Nabeshima appears somewhat startled, while Medaka makes no comment.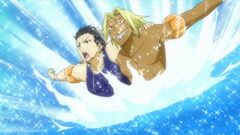 Before the race begins, Akune tells Zenkichi that even if they are the event's organizers, that is no excuse to hold back. Zenkichi says he understands, and will match his pace to Akune's. Akune expresses his pleasure at having such a good underclassman, and the two shake hands. Aso declares the start of the second event, and Akune and Zenkichi both begin struggling with one another to get ahead, but manage to move into the lead despite this, much to Aso's shock, Shiranui's amusement, and the Track Team's chagrin. Isagi Isahaya and Aso are both surprised to find the Swimming Club in last place. Aso questions Shiranui as to why, and the other girl explains that even an all rounder like Yakushima would need about twenty-five meters to match Tanegashima's speed. With the preparation complete, Yakushima apologizes to Tanegashima for making him wait, who tells him it's not a problem. The two then begin swimming with their legs tied together, shocking everyone with the exception of Shiranui, who explains that Tanegashima is the fastest in the swimming world, and that Yakushima should be praised for keeping up with him. The pair easily takes first place, with Aso announcing as such, as well as that the Track Team came in second, and the Student Council came in third because both members did not finish at the same time. Zenkichi thinks to himself how dangerous the Swimming Club's strategy was.
The Third Event: Eel Catching
Edit
Zenkichi narrates the third event, eel catching, in which Nabeshima manages to capture nine eels, Kikaijima manages to capture thirteen eels (maintaining the Swimming Club's position in first place), and Medaka fails to catch a single eel because of her intimidator skill; the event was designed to give the Student Council a loss. At the end of the third event, the Student Council is in seventh place overall. Zenkichi notes that the Swimming Club is going to win, just as Shiranui predicted, before asking Akune what the last event will be. Akune tells him that Aso will be deciding it, so as not to give the Student Council an unfair advantage. The Swimming Club confronts Zenkichi and Akune, with Tanegashima aggressively reminding them that the Swimming Club's funds will be increased by three times for outscoring the Student Council. When Zenkichi asks him if he could at least pretend to have fun, Tanegashima brushes him off, insisting that money makes the world go round. Medaka appears behind Tanegashima and preaches to the Swimming Club that something horrible must have happened to them to turn them into such gold diggers. Zenkichi notes that it has been awhile since they have seen Medaka's Proof of One's Worth #1, while Akune is seen swooning. Medaka promises to reform the Swimming Club to the point that they will give all of their money to charity, to which Tanegashima haughtily dares her to go ahead and try. Meanwhile, Aso cannot decide what the final event should be, she asks for Shiranui's input, who decides on the final event herself.
The Battle of Wills: I Like You More Than Money
Edit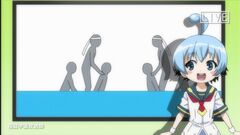 Waiting for the fourth event to start, Zenkichi and Akune are seen as the horse supporting Medaka, with Zenkichi in the front and Akune in the back. When Akune questions this set up, Zenkichi reminds him that he lost the game of rock paper scissors. The Swimming Club's horse is comprised of Kikaijima as the lancer, Yakushima in the front, and Tanegashima in the back. Aso addresses the assembled clubs, before turning the explanation of the challenge over to Shiranui. Shiranui explains that the challenge is a regular cavalry battle: two team members hold up the third, who is wearing a headband. If the headband is taken or the person wearing it falls in the water, then the team losses. However, to give the teams with fewer points a chance, Shiranui throws in an extra rule: points are given out based on the quality of headband stolen. The first place team's head band is worth sixteen points; second place's is worth fifteen, and so on. After hearing Shiranui's explanation, Aso exclaims that the higher ranking teams will be targeted by everyone else, to which Shiranui agrees. Zenkichi, proud of how his friend Shiranui is stirring the competition up, shouts "I love you Shiranui!" to which Shiranui replies "Yay! I love me some me too!", as onlookers think that it's disgusting how well the two of them get along. Medaka punches him on the top of the head, telling him that she doesn't care who he says he loves, but he better not lose sight of his purpose as a member of the Student Council. Zenkichi questions why she had to get violent, as Akune looks on in wonder.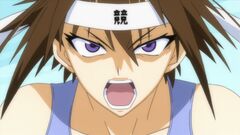 Tanegashima asks Yakushima what they should do. Yakushima tells him that they have forty-eight points and the Student Council has thirty-three: if the Student Council gets their headband, they will be in first place. However, if the Swimming Club takes the Student Council's headband, they will have a fifteen pint lead on the Track Team, who are in second place. Even if the Track Team gets the headband of the Orchestra Club, who are in third place, the Swimming Club will still be fine. Yakushima deduces that the rules were not made to give the lower ranked teams a chance; they were made to force a dual between the Swimming Club and the Student Council. Kikaijima declares that they have no reason to face the Student Council head on, and suggests instead that they take the headband of seventh place, thus gaining an extra point on their lead. Yakushima agrees with Kikaijima when she states they have no reason to fight, and he suggests they get going. Overhearing the Swimming Club's discussion, Medaka challenges them to fight head on, promising that she will teach them that there is something more important than money. Tanegashima thinks to himself that she better stop talking, as saying there is something more important than money is taboo to Kikaijima. Kikaijima loses her temper, and tells the other two she will take that "stupid girl" down. Yakushima can only timidly agree with her, while Tanegashima has nothing to say. Aso counts down to the event's start, before declaring it begun.
As the Swimming Club and the Student Council clash, Aso asks Shiranui whether the two factions are evenly matched. Shiranui replies that while Medaka is stronger than Kikaijima, Tanegashima and Yakushima have better teamwork than Zenkichi and Akune. Locked together with Kikaijima, Medaka tells the Swimming Club that they really are something else, and that she really likes people like that. Kikaijima angrily reminds her that she called them money zombies. Medaka explains that she called them money zombies because they have so little respect for their own lives. She begins to bear down on Kikaijimia, telling the other girl that she is not letting them off the hook for saying that money is more important than their lives. Kikaijima tells her to shut up, and explains the horrid pasts of her and her teammates, and goes on to say that she would gladly give up her life for money: anyone would be sad if they were to lose their wallet or purse, but on one would care if they died. Hearing the reasons behind the Swimming Club's obsession with money, Zenkichi thinks to himself that while Medaka was right about the members having tragic pasts, hearing just how horrible they actually were isn't even funny. With a sudden burst of strength, Kikaijima manages to push Medaka off balance.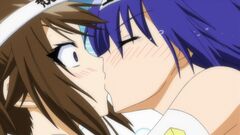 As Medaka falls, Zenkichi throws one of his floaters into the water. Yakushima thinks to himself that it is a shame they weren't able to get the headband, but that with the Student Council out of the way, the other teams won't pose a threat to them. Kikaijima is shocked to find however, that Medaka is somehow standing on the water. Medaka chastises Kikaijima, telling her that even if their luck hits the depths of hell, that is still no reason to throw their lives away. She goes on to say they have just earned something very expensive: her wrath. Aso expresses her amazement at seeing Medaka seemingly stand on water, while Shiranui is seen eating without expression. Aso is still more amazed when she realizes that Medaka is actually standing on Zenkichi's floater. Zenkichi declares he does not care about the outcome of the match, but what the Swimming Club are saying really pissed him off. He tells Medaka to go get Kikaijima; he isn't sure about water, but in midair, Medaka is the best. Medaka leaps at Kikaijima, knocking her off balance. As the pair fall, she tells Kikaijima that a wallet can be picked up, but a lost life can never be replaced. She goes on to say with a cute face that, if they died, she would be sad, before kissing Kikaijima to prove that she loves her. As everyone else stares on in shock, Zenkichi thinks to himself that this is Medaka's third ability, the rare Overflowing Love. As both girls land in the water, Aso declares the Swimming Club disqualified as well. Shiranui tells Aso after both Medaka and Kikaijima go into the water, that because Medaka technically did not fall into the water before taking Kikaijima's headband, the Student Council just scored sixteen points. After this clarification from Shiranui, Aso also announces that the Student Council is now in first place.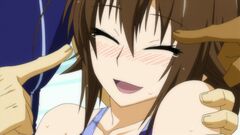 Medaka gets out of the water carrying Kikaijima, telling the Swimming Club that that match was something money can't buy, before handing Kikaijima off to Yakushima. Tanegashima accuses her of being crazier than they are, and that even if they lost, they are not going to change the way they live their lives. Medaka tells him they don't need to change their lives, as long as they pursue money like normal people and without throwing their lives away, then that is enough. In fact, she thinks their dream of filling a pool with money is grand, and when they do it, call her so she can join them in swimming in it. She tells them that dead trees bear no fruit, and to take care of their precious teammate's life. She then walks away to join Zenkichi and Akune. As Kikaijma regains consciousness, she asks her teammates which is more important, her or money. Tanegashima adamantly insists that money is, to which Yakushima agrees, reminding her not to be led astray by Medaka's influence. Kikaijima then asks which they like more, her or money. Yakushima and Tanegashima share a look, before both tell her that they like her more, at which she tearfully tells them that she likes them more than money to.
Aso announces the end of the swim meet, and that the winners are Nabeshima and the Judo Club, much to everyone's surprise. Aso goes on to reveal that while the Student Council and the Swimming Club were caught up in their soap opera, the Judo Club managed to stead all the other teams' headbands, racking up a total of a hundred and three points. Nabeshima confronts Medaka, telling the younger girl that using dirty methods to win against clean opponents is how she always wins, but that she will be waiting for Medaka so that she can beat her head on. Medaka admits that Nabeshima's ploy was nicely done, while everyone else thinks that Nabeshima was surprisingly cool about being cheap. Zenkichi narrates the ending events, explaining that the Judo Club got the funding, but that Nabeshima gave some of the money to other clubs anyway. Zenkichi thinks to himself that Nabeshima makes no sense to him. In the Student Council room, Medaka decides that the event was a success, though the upperclassmen were not pleased about the use of personal funds for a school function. She goes on to say that she has gotten a Treasurer to prevent such a thing from happening again, and introduces Kikajima as the Student Council's new treasurer to Zenkichi and Akune. Kikajima tells Zenkichi and Akune that if they waste money, they will feel her wrath. The boys are both stunned to see her again, and when Medaka explains that they are renting her out from the Swimming Club for $3.00 a day, they both think that is surprisingly cheap.
Zenkichi and Kikaijima in the Office
Edit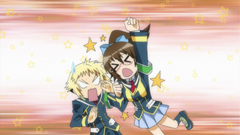 Zenkichi walks down the hallways of the Academy, thinking to himself about the Student Council's new treasurer, Kikaijima. Though he thinks that this should be a good thing, with the budget now finally in order, he feels as though all the people who came after him have better positions then he does. He remembers Medaka telling him to work his way up, but it still doesn't sit right with him. He then enters the Council's room, to find a changing Kikaijima in her underwear. When Kikaijima demands that he pay for the show he got, Zenkichi is incredulous that she wants him to pay her money after already beating him up. He angrily tells her she was at fault for changing in a unisex room without locking the door, and that he should be asking her for money, as she showed him something he didn't want to see. Kikaijima starts crying, and angrily cries that he pay her while calling him a meanie, now telling him to pay for the mean things he said as well. Zenkichi relents, and he pays her $4.50 for the peep show, and $3.00 for being mean. With Kikaijima's mood improved, he thinks to himself that it was cheaper than he expected. Kikaijima asks him where the computer is, to which he replies that they don't have one and hands her an abacus, much to her surprise. Zenkichi goes on to say that they don't need a computer with Medaka, as she can do any kind of arithmetic in her head, to which Kikaijima questions whether Medaka has intel inside. She then claims that it is a waste to buy something that isn't needed, and that an abacus is also pretty useful. Kikaijima begins working while Zenkichi starts reading manga.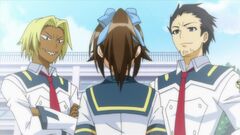 Zenkichi thinks to himself that the room got really quiet after they stopped talking, and that Kikaijima makes him feel like he shouldn't be there. He thinks on that he knows nothing about her; she has a "to each their own" attitude of working, and that once he paid her, she was done with him. Feeling awkward, he wonders why neither Medaka nor Akune are in today. Meanwhile, Kikaijima thinks to herself that it has gotten really quite, and that it was a bad idea to show how serious she was by working. She thinks on how Zenkichi is reading manga, and it doesn't look like he is interested in her at all. She worries that she will lose face to Yakushima and Tanegashima, and resolves to make friends. Flustered, she then comments to Zenkichi that they have nice weather today. After he points out that it is raining, the atmosphere becomes even more tense, with Kikaijima thinking that she read in a book somewhere that you can strike up a conversation with just about anyone when you talk about the weather. She wonders if Zenkichi hates her or something. However, Zenkichi has realized that Kikaijima was trying to start a conversation with him, and that he should have answered "Yeah, even rainy days are good". He continues to think that while Kikaijima is higher ranked than him (because she is a scholarship student), he is still her senior in the Student Council, and that he should try and break the ice, deciding he should first change the mood into a better one. Remembering that Medaka told him Kikaijima trains her body, and thinking that there is not a person who doesn't like being complimented, he tells her that she has a great body. A horrified Kikaijima throws her abacus at his head, and charges him $0.50 for sexual harassment; bringing the total amount of money she has taken from him $8.00. Zenkichi thinks to himself that he has just made things worse, and that he has no sense when talking to a girl. Kikaijima thinks to herself that Zenkichi must hate her now, and that she wants to apologize for getting violent and give him his money back. Both silently beg for somebody to help out, not caring who. Shiranui barges into the Student Council room, telling Zenkichi she felt as if he was calling for her, and asking if he has something good for her to eat. A horrified Zenkichi and Kikaijima both think that the number one person who can't take a hint just came.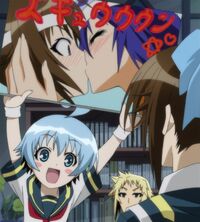 Shiranui greets Kikaijima, introducing herself to the Student Council's new member. Kikaijima thinks to herself that the other girl is a mystery: during the swim meet, it was like she was pulling the strings behind the scenes, and wonders how she can enter the Student Council room when she is not a member. Shiranui then offers Kikaijima a photo of her kiss with Medaka, breaking the forth wall to mention that it took up a whole panel the week prior, much to Kikaijima's dismay. As Kikaijima ties to take it, Shiranui offers it her, explaining that she actually took it for the school newspaper, but if Kikaijima asks, Shiranui will give it to her. She then maliciously reveals that she took three hundred photos, all from different angles, and asks Kikaijima which one she would like. Zenkichi stops Shiranui however, asking her not to tease the new member so much; he promises to buy her something good to eat later, and asks her to leave. Shiranui agrees, and leaves with an empty apology to Kikaijima and a farewell to Zenkichi.
Zenkichi apologizes to Kikaijima on his friend's behalf. Gathering up the photos, Kikaijima thanks Zenkichi and asks him what Shiranui is like, to which he replies that he doesn't really know. When Kikaijima asks him if it is alright to be that easy going about, Zenkichi replies in the affirmative, telling her that Shiranui is his friend, and that he doesn't need to know any more than that. Kikaijima then asks about Medaka, wanting to know if she does that (kissing) with everyone. Zenkichi bashfully admits that in the past, all their classmates' first kiss was with Medaka, though he put a stop to that when they got to elementary school. He goes on to say that Overflowing Love is one of Medaka's trump cards now; she doesn't use it very often, and Kikaijima is one of the rare cases where she did use it. Zenkichi begins to mention Medaka's fourth trump card, but then decides to keep that information to himself. Kikaijima asks how she Medaka can claim she was born for others, as that line of thinking is incomprehensible to Kikaijima herself. She goes on to say that when she ran out of money, all the people who she thought were her friends left her; she doesn't hate or blame anyone because she thought that was how the word worked: a give and take world. She claims that if anyone starts to like her, they won't get anything in return. Zenkichi asks if she can say the same thing to the other members of the Swimming Club. Kikaijima replies that those two are different, as the three of them are like family. Zenkichi tells her that Medaka is the same way, only she sees all of humanity as her family, and that she likes Kikaijima so much, she doesn't know what to do about it. Kikaijima remembers pacing outside the suggestion box, when Medaka approaches her from behind and asks her what she is doing. While Kikaijima tries to answer, Medaka tells her that she was looking for her anyway: after knocking her into the pool, Medaka couldn't get her mind off of Kikaijima, and claims that she has fallen for her. Medaka then tells Kikaijima that the Student Council needs a Treasurer, and asks her to help out. Kikaijima remembers that that was the first time she was asked to help someone. Kikaijima suddenly realizes that she has been having a normal conversation with Zenkichi, and that this is her chance to make a new friend. She worries that if she starts thinking about it, she might fail again, when she decides to do the same thing Medaka did. She then interrupts the still talking Zenkichi, claiming that she has fallen for him, and is going to kiss him.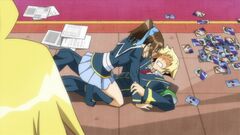 Walking in the halls are Medaka and Akune, with the latter mentioning that today's request was pretty difficult, and that he never thought something like that could happen in the Acadmy. Medaka agrees with Akune, telling him that you would never think that disasters of that level would happen so frequently; now, whatever happens, the Student Council will not be shocked. She admits though that the reason they could focus on what was going on around them was because they have people they can rely on to take care of the work while they were gone, and that they need to thank Zenkichi and Kikaijima. Akune agrees with her, stating that while Zenkichi is a worm, he does come in handy sometimes. Medaka and Akune walk in to find Kikaijima on top of Zenkichi in the Student Council room, with Zenkichi trying to force her off of him. Both of them misunderstand what they are seeing and chastise him: Medaka tells him that when young, you tend to try things out, but he could at least pick the place he is going to do it; if he is going to do it in the Student Council room, he could at least lock the door. Akune sides with Medaka, asking Zenkichi whether he thinks the Student Council room is his own personal area or something. A frustrated Zenkichi replies that he doesn't want to hear that from either of them, and while they are not wrong, they are not right either.