Hakobune Middle School (箱舟中学, Hakobune Chuugaku) is a middle school attended by Medaka Kurokami, Zenkichi Hitoyoshi, and several other prominent members of the Medaka Box main cast before they entered Hakoniwa Academy.
Uniforms
The standard men's uniform of Hakobune Middle School consists of a black jacket with four buttons and matching pants. The standard girl's uniform of Hakobune Middle School consists of a sailor uniform comprised of a light pink shirt with a dark red trim, and a matching dark red skirt.
Notable Students
Former
Student Council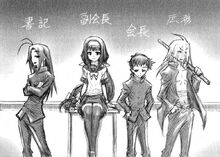 Seen only in flashbacks, Misogi Kumagawa was the president of the Hakobune Middle School Student Council.[1] Kumagawa's approval rating dropped to 0%, but after a couple of months, he was able to bring it up.[2] That his approval rate was brought up, that Kumagawa could become president at all was all because of his vice-president, Najimi Ajimu.[3] While president, Kumagawa ordered Kouki Akune, then known as the Destroyer, to attack students Kumagawa wanted gotten rid off.[4] Akune's official position in the Student Council was that of general affairs manager. Maguro Kurokami was also a member of Kumagawa's Student Council, holding the position of secretary.[5] Akune's eventual reformation by Medaka would lead her into conflict with Kumagawa.[6] The situation with Kumagawa came to a head when he viciously attacked Ajimu, ripping off her face, apparently to test whether or not he loved her for more than her looks. After this, Medaka attacked Kumagawa, and he was banned from the school.[7]
Notable Members
Former
References
Ad blocker interference detected!
Wikia is a free-to-use site that makes money from advertising. We have a modified experience for viewers using ad blockers

Wikia is not accessible if you've made further modifications. Remove the custom ad blocker rule(s) and the page will load as expected.