Home
Talk

17
610pages on
this wiki
Medaka Box News
The Medaka Box Wiki Twitter Feed is up and running! Check it out for updates on the latest news, chapters, and episodes.
The Medaka Box Wiki is excited to announce its affiliation with the Bakemonogatari Wiki, the Katanagatari Wiki, and the Zaregoto Series Wiki. Like Medaka Box? Then check out the wikis about these other great series by the prolific Nisio Isin!
The Medaka Box Wiki has its own official Polices and Manual of Style. Please read and make yourself familiar with the standards and guidelines of all articles, and if you have any questions or suggestions regarding either, please visit the forums.
Affiliated Wikis
Want to affiliate with the Medaka Box Wiki? Contact us.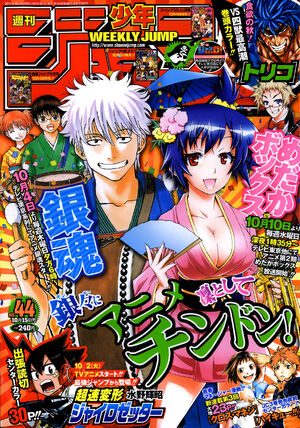 Most Recent Manga Chapter
The final chapter. Medaka and Zenkichi remember their past, discuss their present, and decide their future. Thank you for four years of affectionate reading!
Most Recent Anime Episode
A look backwards! Just what was Kumagawa up to during his time at Suisou Academy before coming to Hakoniwa Academy? Well, during his tenure as Student Council president, he had one battle that was particularly colorful ... for a time.
Poll
Results of Previous Poll:
Total votes: 94
How satisfied were you with Misogi Kumagawa's "win"?
1. It was excellent = 49 Votes (52.13% of all votes)
2. Best moment of the series = 13 Votes (13.83% of all votes)
3. It was well-done = 11 Votes (11.7% of all votes)
4. Are you joking, Nisio Isin? = 10 Votes (10.64% of all votes)
5. I am ambivalent = 4 Votes (4.26% of all votes)
6. It was disappointing = 3 Votes (3.19% of all votes)
7. I am satisfied = 2 Votes (2.13% of all votes)
7. It was predictable = 2 Votes (2.13% of all votes)
Tweets by @WikiaAnime