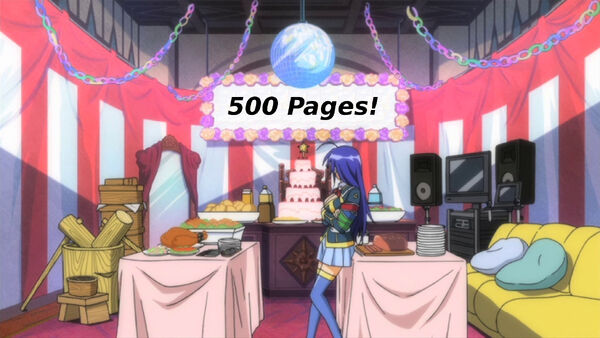 I imagine the title of this blog is fairly self-explanatory, but in case it's not, the wiki now has 500 PAGES! And I'm throwing a party. You're going to have to imagine it though, as while I would like to host a celebration akin to the above image, I have the feeling that if the wiki's top contributors were to end up in a room together, it would probably look something more like this: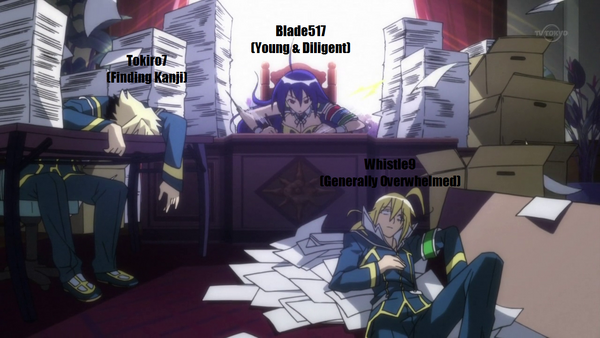 Yes, there would be a hovering TV Tokyo icon in the corner of the room.
But yeah, image humor aside, this is super exciting. In just under three years, the dedicated members of this community have produced 500 pages of content concerning the Medaka Box series. I am so thrilled, I've been over to Community Central and requested a spotlight for the wiki. So with a little luck, hopefully we'll be seeing that come to fruition in the next few weeks. Of course, a HUGE thank you to every contributor who has helped the wiki reach this point, from the regular editors, to the not so regular editors, to the anonymous contributors.
Next, we're gunning for 1000 pages! Here's to three more years of the manga, a continuation of the anime after the second season, and 500 more content pages here at the Medaka Box Wiki!
Ad blocker interference detected!
Wikia is a free-to-use site that makes money from advertising. We have a modified experience for viewers using ad blockers

Wikia is not accessible if you've made further modifications. Remove the custom ad blocker rule(s) and the page will load as expected.